Engine & Drivetrain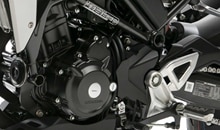 Performance advantage
The CB300R's compact 286cc DOHC 4­-valve liquid­ cooled single cylinder engine is­ shared with the sporty CBR300R that has won many fans for its free­revving and
Lightweight agility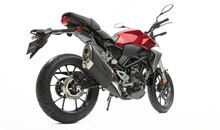 The light and compact engine contributes to the CB300R's agile steering, intuitive handling and impressive power-to-weight ratio, allowing it to compete with twin-cylinder bikes of similar displacement.
Easy maintenance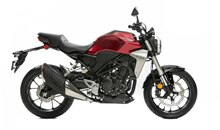 To reduce maintenance costs – an important factor for many riders – the engine is also designed with the minimum number of moving parts. Details like the
Crisp throttle response

Programmed Fuel Injection (PGM-FI) continuously monitors several variables to ensure the correct fuel mixture for the current riding and atmospheric conditions. The system delivers optimal performance and remarkably crisp throttle response over a wide range of operating conditions, plus improved fuel economy.
Compact engine design

The engine countershaft sits lower than the mainshaft in a "stacked" formation to reduce the engine's front-to-rear dimensions.
Confidence inspiring

The engine produces a remarkably broad torque curve for strong low-rpm performance, the wide spread of power makes the CB300R easy and confidence-inspiring to ride, in both stop-and-go situations and on the highway, while also returning impressive fuel economy.
Efficient engine
The crankshaft runs in plain bearings for quieter operation and the big end of the connecting rod spins in a needle bearing, both contributing to the engine's high-performance credentials.
Less vibration – more comfort
A gear-driven counterbalance shaft helps quell engine vibration for enhanced rider comfort. It's located so close to the crankshaft that the balancer weight passes between the two crank weights to keep the engine as compact as possible while improving mass centralization.
Broad power delivery

The six-speed transmission works in concert with the engine's broad power delivery to produce quick acceleration and excellent fuel economy around town. Taller final drive gearing further improves fuel efficiency during highway cruising.
Chassis & Suspension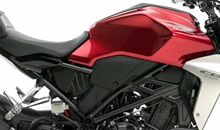 Premium construction

The CB300R's frame – which helps underpin its minimalist style, drawn on the same Neo Sports Café lines as the new 2018 CB1000R – is constructed with tubular and pressed steel; the swingarm is manufactured from steel plate, irregularly shaped in cross­section.
Standard ABS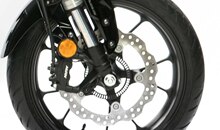 The 296 mm front disc brake uses a Nissin 4 -piston caliper with 220 mm rear disc brake featuring single piston caliper. Both are modulated by standard two ­channel ABS to provide great control even on difficult road surfaces.
Outstanding manoeuvrability

Curb weight of only 143 kg and compact 1,352 mm wheelbase gives the CB300R outstanding manoeuvrability and helps instill rider confidence and excitment.
Riding comfort
Comfortable and ergonimic seating position provides a clear view of the road ahead and helps rider enhance control.
Grip & handling
Full-sized 17-inch cast wheels with Dunlop tires sized at 110/70R-17 front and 150/60R­17 rear to provide big-bike feel, grip and handling traits.
Advanced stability
The chassis' core strength is anchored by the pressed steel swingarm pivot plates and swingarm, allowing the tubular steel lattice frame to deliver agile handling with stability and feedback. The 37 mm USD forks also complement the CB300R's handling, with compliant damping and supple spring rate. The single rear shock offers 5­ step spring preload adjustment.
Attractive 'Neo Sports' design
Minimal modern-retro bodywork with clean, open, sporty styling is not only attractive it makes the CB300R even lighter, with its 'Neo Sports Café' minimalist, bare­boned attitude.
Additional Features
At a glance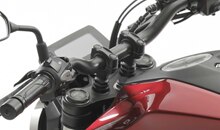 A thin (23.5 mm) lightweight (230 g) full function LCD instrument display provides speed, engine rpm, fuel level and gear position simply, with warning lights arrayed across the top.
Easy to ride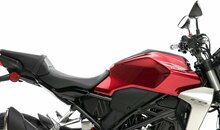 A narrow comfortable seat and riding position makes it easier for riders to develop their skills and enjoyment as a great introduction to our legendary lineup of motorcycles.
Fit and finish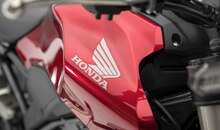 Full LED lighting – including indicators – adds a premium feel and contributes to mass centralisation. The headlight uses a dual bar light signature, upper for low beam and lower for high beam and the taillight is the thinnest ever mounted on a Honda motorcycle.
Boldly designed

Taking sport naked design to the next level with an attractive neo sport philosophy from the iconic fuel tank shape to the underslung exhaust.