Engineering
HRC Launch Control
We're talking about a special ECU program here: push the button to select the mode, hold the throttle open, release the clutch, and the CRF250RX will do the rest, launching you into the first turn with a big advantage. It turns your bike into a holeshot-seeking machine!
Electric Start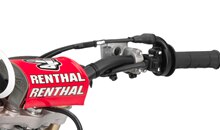 The new CRF250RX is equipped with an effortless electric starter. Convenient and lightweight, it's a huge deal if you need to restart a stalled bike in the heat of battle.
DOHC Engine Layout
The CRF250RX uses a double-overhead-cam (DOHC) engine layout with a unique finger-follower rocker design. Together with the rest of the engine's architecture (bore and stroke, intake tract, piston, and more), you get more power and a higher redline.
New Gear-Position Engine Mapping
Talk about smart: The CRF250RX features an ECU with special engine mapping for each gear. You can't give an inch in this class, so having your engine deliver optimal power for each gear choice is one of the features that separates CRF250RX riders from the rest.
Engine Mode Select Button
This simple handlebar-mounted button lets you dial in engine power delivery character with a push of your thumb. Choose between Standard, Smooth and Aggressive, depending on course conditions.
Titanium Intake and Exhaust Valves
Light is right when it comes to a high-revving engine's reciprocating masses. That's why the CRF250RX uses titanium intake and exhaust valves. Plus, the valve angle is a super-narrow 20.5 degrees (included). Ovalized valve springs and long-wearing Diamond-Like Carbon (DLC) treated finger rockers complete the package.
Downdraft Intake and Exhaust Layout
The DOHC cylinder-head design let our engineers straighten out the CRF250RX's intake and exhaust tracts. The intake is shorter and just about arrow straight, and the exhaust flows more efficiently too. No athlete's going to win a sprint if he tries to run while holding his breath, and it's no different with your bike's engine. You'll experience both more power and better throttle response.

Big Bore/Short Stroke
The CRF250RX's 79 mm bore and short 50.9 mm stroke let our engineers create a high-revving engine with plenty of room for large valves. The engine breaths and revs—the two keys to making power in the enduro world.
Dual-Exhaust System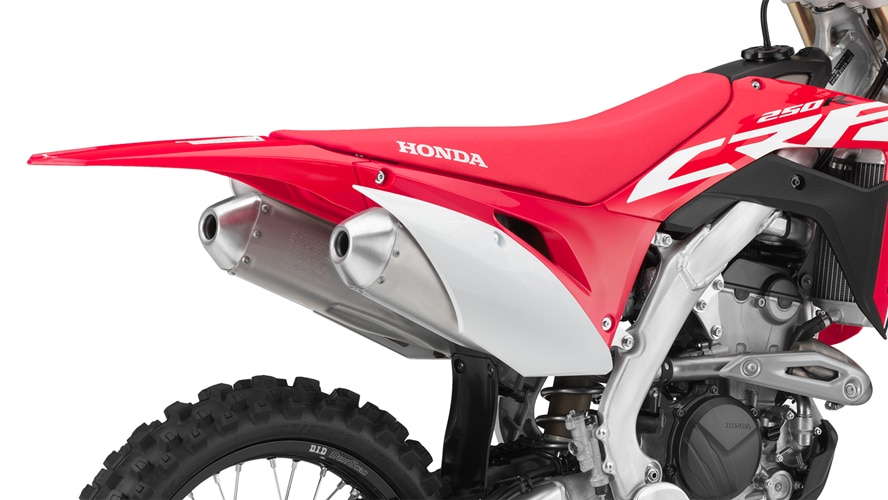 The CRF250RX's dual-exhaust system is light, compact, and positioned close and low in the frame to take weight off the rear end and bring more mass to the bike's center for improved handling. It also allows for more airflow, and that equals added power.
Total Air Management
Total air management means complete attention to how efficiently air gets through the intake, through the head, and out the exhaust. Eliminate losses here, and you make more power everywhere. And the best part? It's free power—you just need a bike with smart design.

Bridged-Box Piston
The new CRF250RX features a bridged-box piston design developed on our factory racebikes. Why? The reinforcing structure between the skirts and the wrist-pin bosses lets this big-bore piston retain a light, strong construction and helps enable the CRF250RX's high redline.
Performance




New 2019 Cam Profiles
With input directly from our HRC works team, we've given the new CRF250RX the same cam profiles on our 2019 CRF250R. You should feel the engine rev more freely, as well as improved torque feel in the bottom end.

New Throttle Body
With a 2 mm smaller venturi designed to speed up airflow, the CRF250RX's new throttle body really reaps benefits at low engine operating speeds. You get power and snap, right now.

Large Valve Diameters
The CRF250RX's valves don't just have impressive lift, the valves themselves are large-diameter too—33 mm intakes and 26 mm exhausts. Combined with the high lift, the twin-cam CRF250RX flows a lot more, especially at high revs when you're wicking it up.

New Double-Spray Injector Settings
The CRF250RX's fuel-injection system sprays twice per intake cycle. That helps increase fuel atomization without adding the weight or complexity of a second injector. The better fuel atomization means more power in the midrange and on overrev—you'll feel it the first time you ride.
High Redline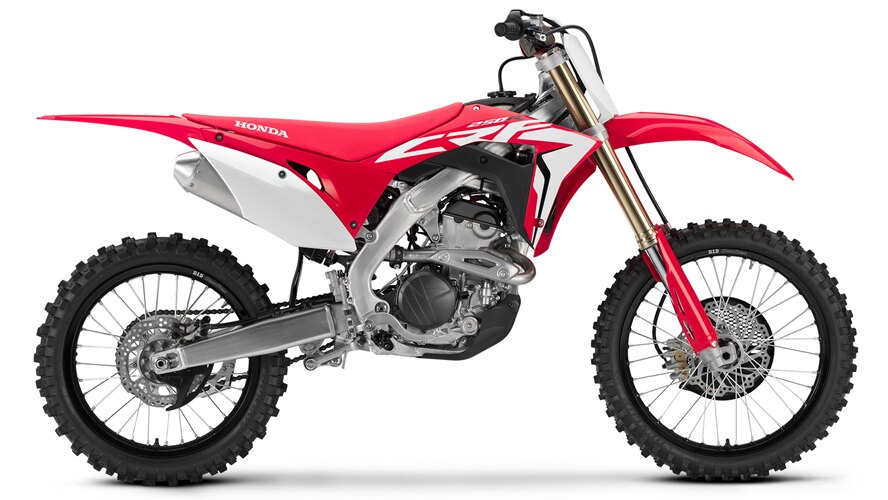 With our better-breathing DOHC design and the big-bore/short-stroke engine, the CRF250RX's rev limit is way impressive. The same goes for peak power and peak torque.
Big Power
Feel free to hold that throttle open and head for the first turn—the CRF250RX is designed to win that critical holeshot drag race.