Engine & Drivetrain
Strong, confidence-inspiring power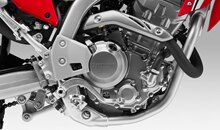 Compact and sophisticated liquid-cooled DOHC 249 cc single-cylinder four-stroke engine produces smooth and consistent torque at low rpm, plus excellent high-rpm performance. The engine's wide spread of power makes the CRF250L easy and confidence-inspiring to ride, while also returning impressive fuel economy.
Dynamic performance

The engine's intake and exhaust systems are engineered to boost horsepower while also increasing torque at low rpm, all without changing the CRF250L's easy-to-ride nature.
Optimal power
The CRF250L's Programmed Fuel Injection (PGM-FI) system continuously monitors several variables to ensure the correct fuel mixture, thereby delivering optimal performance and remarkably crisp throttle response over a wide range of operating conditions. A large throttle body and a long air-intake tube contribute to the engine's significant power.
Smooth response
The PGM-FI system incorporates an Idle Air Control Valve (IACV) to smooth responses to small changes in throttle position.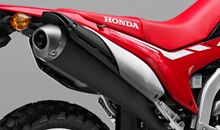 Exhaust design

The exhaust system's header pipe features a tapered design shape, altering the internal structure of the muffler. Engineers were able to balance overall power and torque while also reducing weight.
Compact design

Extremely compact roller rocker arm design for the low-friction valve train allows the use of a smaller cylinder head.
Quieter Quiet operation
The crankshaft runs in plain bearings for quieter operation and the big end of the connecting rod spins in a needle bearing, both contributing to the engine's high-performance credentials.
Reducing vibration

A gear-driven counterbalance shaft helps quell engine vibration for enhanced rider comfort. It's located so close to the crankshaft that the balancer weight passes between the two crank weights to keep the engine as compact as possible while improving mass centralization.
Chassis & Suspension

Excellent stability & agility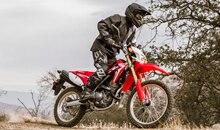 Chassis developed specifically for the CRF250L provides an ideal combination of on-road stability and off-road agility.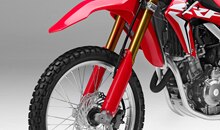 Incredible ride quality

Inverted Showa fork features settings for incredible ride quality on the street and in the dirt.
Excellent performance over rough terrain
Pro-Link® single-shock rear suspension is designed for both great rider comfort and great traction while maintaining the ample travel that helps make the CRF250L capable on the trail.
Outstanding stopping power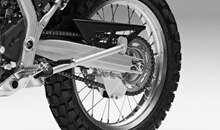 Front and rear disc brakes ensure strong and consistent stopping power.
Lightweight performance
Front 21-inch and rear 18-inch wheels boast lightweight aluminum rims.